Illustration by Shaun Tan


In conversation: Neil Gaiman talks to Shaun Tan
'I use text as the grout between the tiles of the pictures. I always overwrite and then trim it down to the bare bones'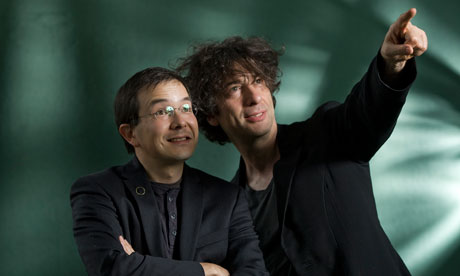 I met Shaun Tan for the first time in 1996, at a science-fiction convention in Perth, and only half-remember meeting him. He's quiet, shy, generally unassuming. I got to know him slightly better with each subsequent trip to Australia, and he got used to me introducing myself to him and him telling me that actually we'd already met. He's an artist and a writer and now a director, possessor of a peculiar and singular vision. As an artist he combines real drawing skill with a profoundly off-kilter imagination, his characters, human and otherwise, are at the same time funny and enticing; as a writer and storyteller he creates stories, sometimes wordless, always told with an economy of words, which manage to be both alienating and embracing: a child on a beach finds an alien monster inside something (a box? a house? a spaceship?) and brings it home, dealing with a Kafkaesque bureaucracy; an immigrant comes to live in a distant country where everything is different and inexplicable; a foreign exchange student is a tiny, leaf-like botanist; surreal images of depression and hopelessness almost, but do not, overwhelm a small girl, and at the last there is magic and hope.
Tan's vision is intensely personal, but not exclusionary. People love what he does. I've had Australians press his books on me in Australia and bring them as visiting gifts when abroad. His film The Lost Thing won an Oscar as best animated short (fellow Perthling Tim Minchin does the voiceover). He was given the 2010 Astrid Lindgren Memorial award, the only children's award that comes with real money, and the other people on the longlist did not mind. Well, I didn't, anyway, and I was nominated.
He lives in Melbourne. He's not very tall, and he has an easy smile when he relaxes. He does not seem to mind that I only spell his first name right half the time.
He told me once that he began writing after The Rabbits, his award-winning book, started life as a 16-line fax from Australian author John Marsden, which took Shaun a year to illustrate. "And he got half the royalties," he said. But his pictures and his stories are all of a piece.
I had a Shaun Tan painting done on a bottlecap hanging on my wall for a year.